In the FastData 3.5 version updated at the end of October, we launched three exclusive TikTok data analysis functions, including live broadcast, small yellow cars, and advertising, becoming the first closed-loop analysis tool to achieve full ecological data. At the same time, we launched paid members, which received everyone's support and positive feedback!
With the opening of the American market, TikTok's ecological commercialization is also developing rapidly, and a large number of opportunities will emerge at this stage. As the leading TT data analysis artifact in the industry, in order to help you better find and seize opportunities, after many rounds of discussion and efficient research and development work, the product version 5.0 has been comprehensively upgraded in less than a month. Today, we share with you the surprise function brought by this time~
1. Five advanced functions go online
New functions on PC side:
-Data export function: the data export function of commodity, store and talent list is online
-View of video materials: TikTok videos are played online and advertising video materials are downloaded
-Product image viewing: support online viewing of all product images to facilitate product analysis
What's New in Applet&H5:
-Search function: the mobile phone dual search function is online, summarizing the search results of the whole module, and supporting detailed viewing by module
-Hot countries zone: TikTok hot countries (Indonesia, the United Kingdom, Vietnam, Thailand, Malaysia, the Philippines, etc.). The data of each module is summarized, and the national data can be seen at a glance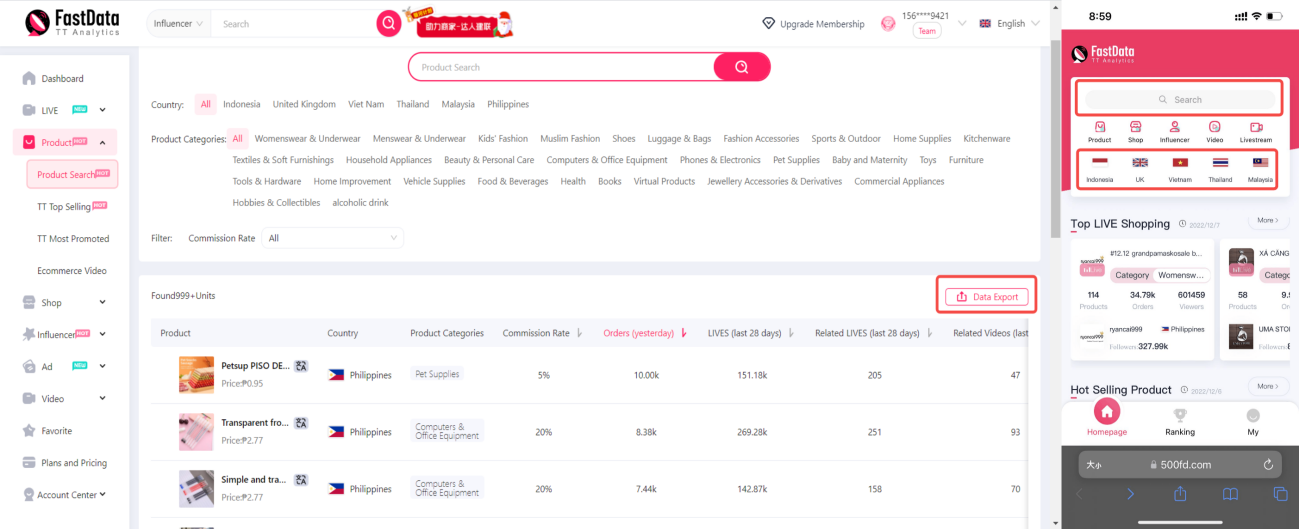 (PC export, mobile search and popular country functions)
2. Three new data fields
-Live broadcast type: supports filtering of personal broadcast and shop broadcast types
-Live broadcast room traffic source: the traffic source data analysis function is online to help more detailed live broadcast data analysis
-Talent Ranking: Talent World and National Rankings are online, helping to evaluate talent data,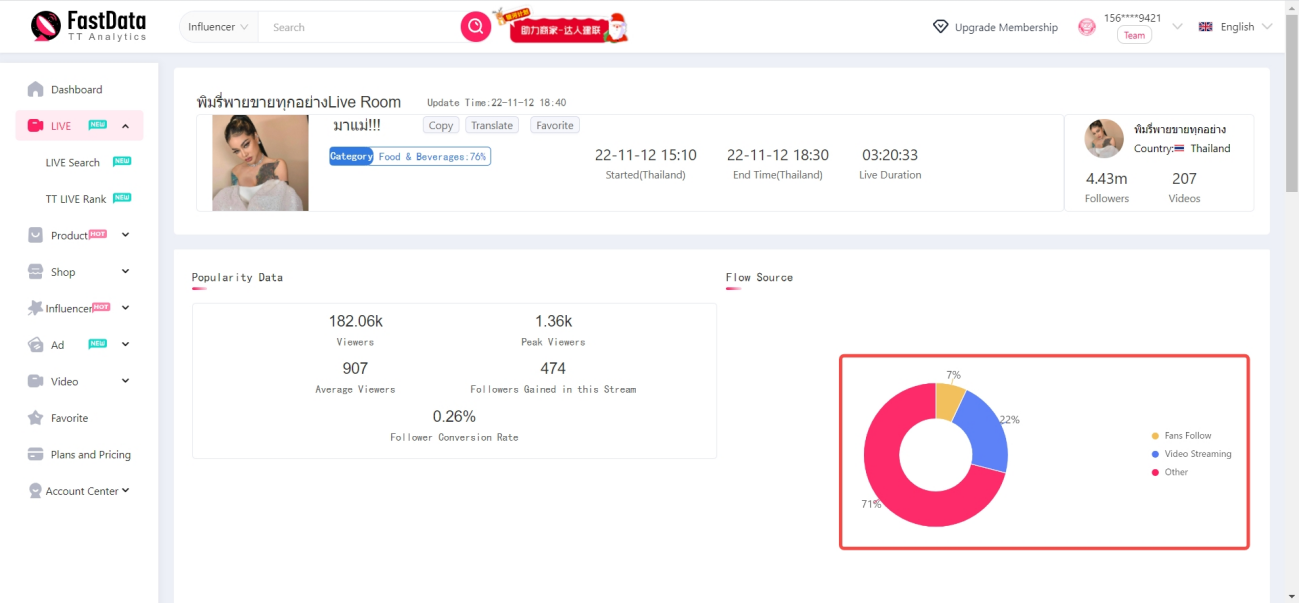 (Source of live broadcast room traffic)
3. Home page interaction, new visual upgrade
-New upgrade of three end homepage: applet, PC, H5
-Function navigation is more intuitive and convenient
-The page visual style is more enjoyable

(Source of live broadcast room traffic)
Some of the above functions are only available to premium members. Paid members can enjoy all the new functions. The earlier you buy a member, the better!

More new features
Thank you for your support and attention to FastData, and tell you a little secret. We will gradually bring you more new functions in the past five days:
-List of people carrying goods: help you quickly find the highest list of people carrying goods in GMV
-Popular advertisers: analyze popular advertising materials and strategies of major advertisers
-Hot tag analysis: help you analyze the detailed data of hot tags and topics, provide the hottest video material reference, and find the best leading topic
-Video data monitoring: minute level access to video updates released by experts and video data change trend
-Upgrade of advertising search function: support classified query of search content, and more accurate search results
Experience the new features of version 5.0 immediately and get more real-time data of TikTok's global live broadcast, products, stores, talents, advertisements and short videos. You can visit FastData official website (500FD. com)
Company Name:FastData
Contact Person:Andy
Email: liuyanwei@yolobuyer.com
Address:Beijing, China
website: www.500fd.com
Tuyên bố miễn trừ trách nhiệm: Bài viết này được sao chép từ các phương tiện khác. Mục đích của việc in lại là để truyền tải thêm thông tin. Điều đó không có nghĩa là trang web này đồng ý với quan điểm của nó và chịu trách nhiệm về tính xác thực của nó và không chịu bất kỳ trách nhiệm pháp lý nào. Tất cả tài nguyên trên trang web này được thu thập trên Internet. Mục đích chia sẻ chỉ dành cho việc học và tham khảo của mọi người. Nếu có vi phạm bản quyền hoặc sở hữu trí tuệ, vui lòng để lại tin nhắn cho chúng tôi.