(WAki International Media Center 3rd July) The President of Waki Relic Musuem, Dr. Teo honoured invited to attend 50 years of Vatican-Wat Phra Chetuphon Friendship between two traditional religions with the Buddhist Delegation from Thailand on 17th June 2022. The Delegation from Thailand composed of thirty-nine prominent Buddhist monks of both the Theravada and Mahayana schools, together with sixty-five lay Buddhists and several representatives of the Thai Catholic Church. The purpose of visit has been to commemorate the golden jubilee of the historic meeting of the Most Venerable Somdej Phra Wannarat, the seventeenth Supreme Buddhist Patriarch of Thailand, with the Pope Saint Paul VI, on 5 June 1972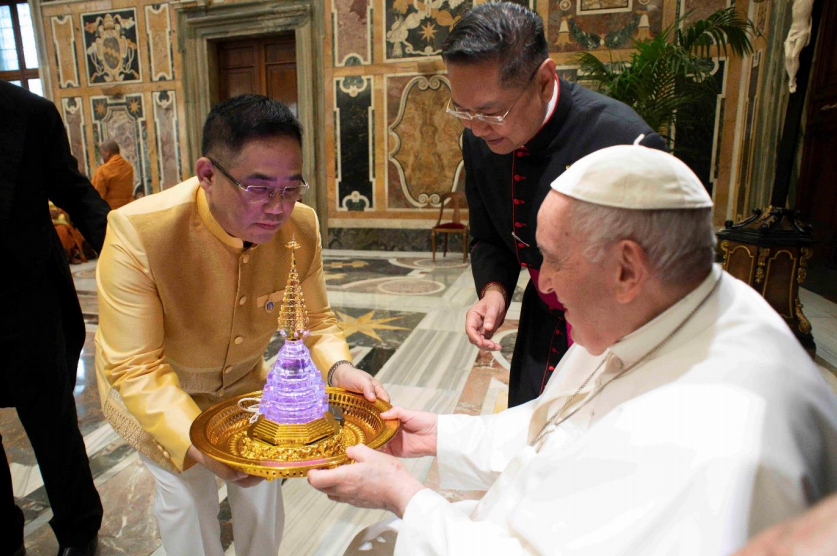 In the Jubilee, the most respected Venerable Somdej Mahathirachan spoke that he is on behalf of the Sangha Supreme Council of Thailand, the Sangha Assembly of Wat Phra Chetuphon (Wat Pho), Bangkok and friends of different traditional religions coming from Thailand, acknowledge today as an auspicious occasion for me and for all members of the delegation. This is because His Holiness, Pope Francis, Supreme Pontiff of the Roman Catholic Church, has offered His kindness and a warm welcome of friendship to me and to all our friends of different religions here, at the Vatican City.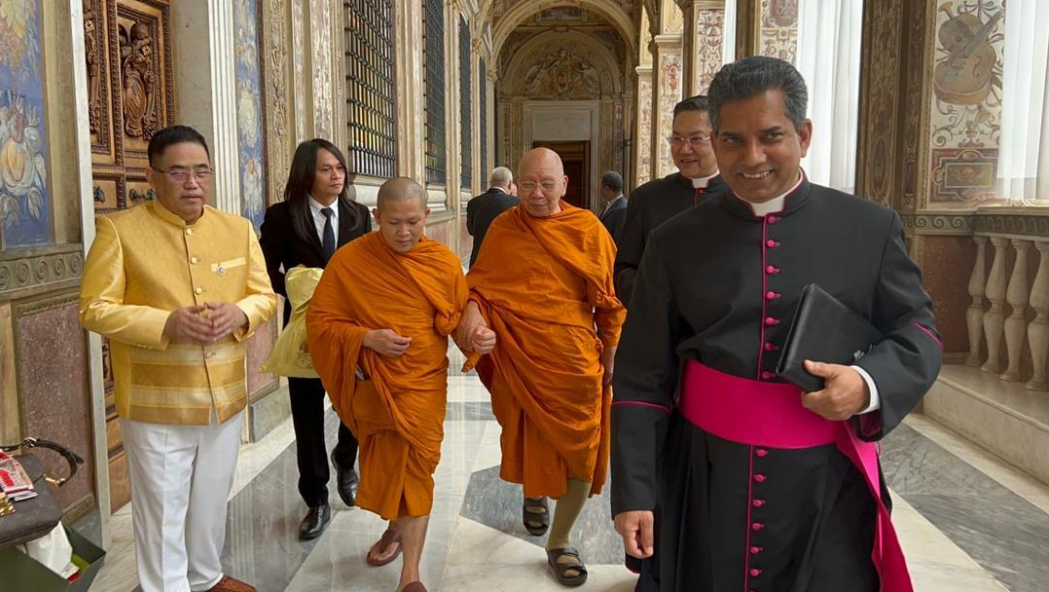 Our beautiful friendship between the Roman Catholic Church and Wat Phra Chetuphon of the Kingdom of Thailand lasts, since the Most Venerable Somdet Phra Wannarat, former abbot of the same temple (The 17th Supreme Patriarch of Thailand) visited the Vatican City and had an audience with Pope Paul VI, on 5 June 1972. This meeting is seen as a beautiful bridge of friendship. Since then, delegations of the Sangha Assembly of Thailand have had opportunities to visit successive Popes.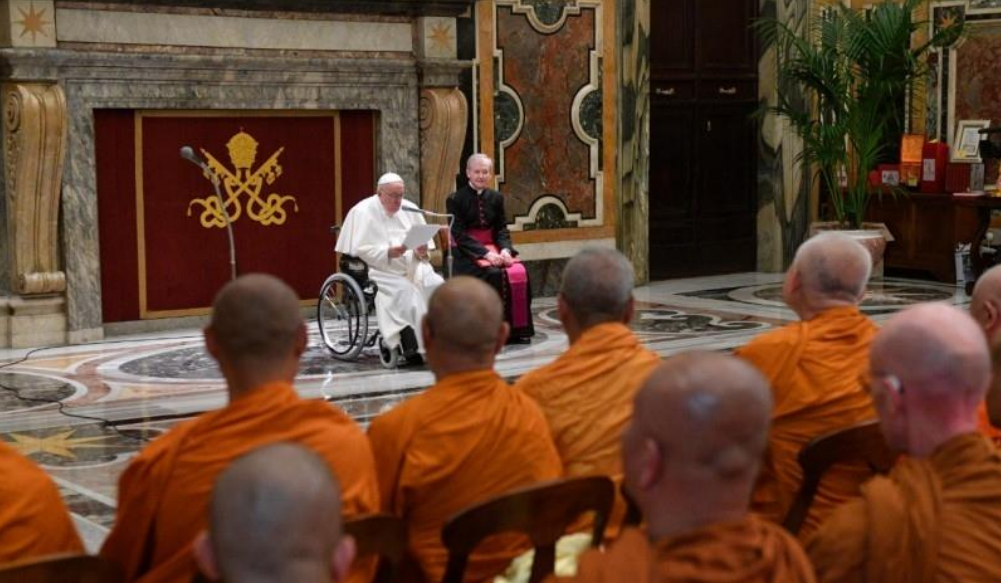 The most repested Pope Francis addressed that at a time when our human family and our Planet are facing manifold threats, such friendly dialogue and close collaboration are all the more necessary. Sadly, on all sides we hear the cry of a wounded humanity and broken earth. The Buddha and Jesus understood the need to overcome the egoism that gives rise to conflict and violence. The Dhammapada sums up the Buddha's teachings thus: "To avoid evil, to cultivate good, and to cleanse one's mind - this is the teaching of the Buddha" (Dph 183). Jesus told his disciples: "I give you a new commandment, that you love one another. Just as I have loved you, you also should love one another" (Jn 13:34). Our task today is to guide our respective followers to a more vivid sense of the truth that we are all brothers and sisters. It follows that we should work together to cultivate compassion and hospitality for all human beings, especially the poor and marginalized.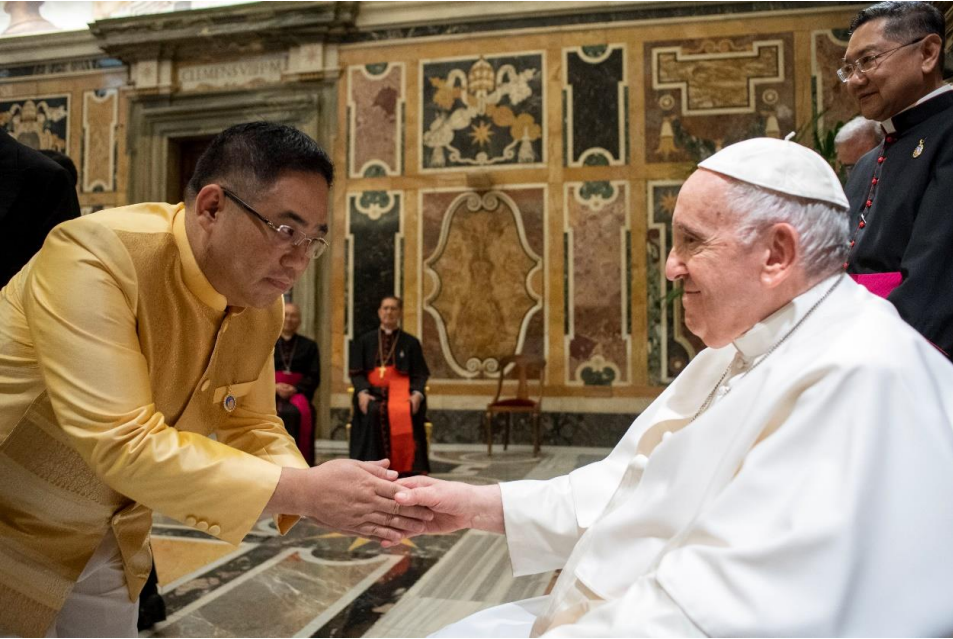 The most respected Pope Francis warmly welcomed all the delegates with a kind smile. The most respected Venerable Somdej Mahathirakorn and all the Thai delegation to the Vatican presented gifts to Pope Francis as a bond of beautiful friendship between the two religions. In addition, the president of Waki RelicMusuem, Dr. Teo felt honored to present the Waki Relic Pagoda to Pope Francis. The meeting was held in a very peaceful and harmonious atmosphere. All the delegates could feel the goodwill and harmony between these two religions that would benefit all the people and world peace.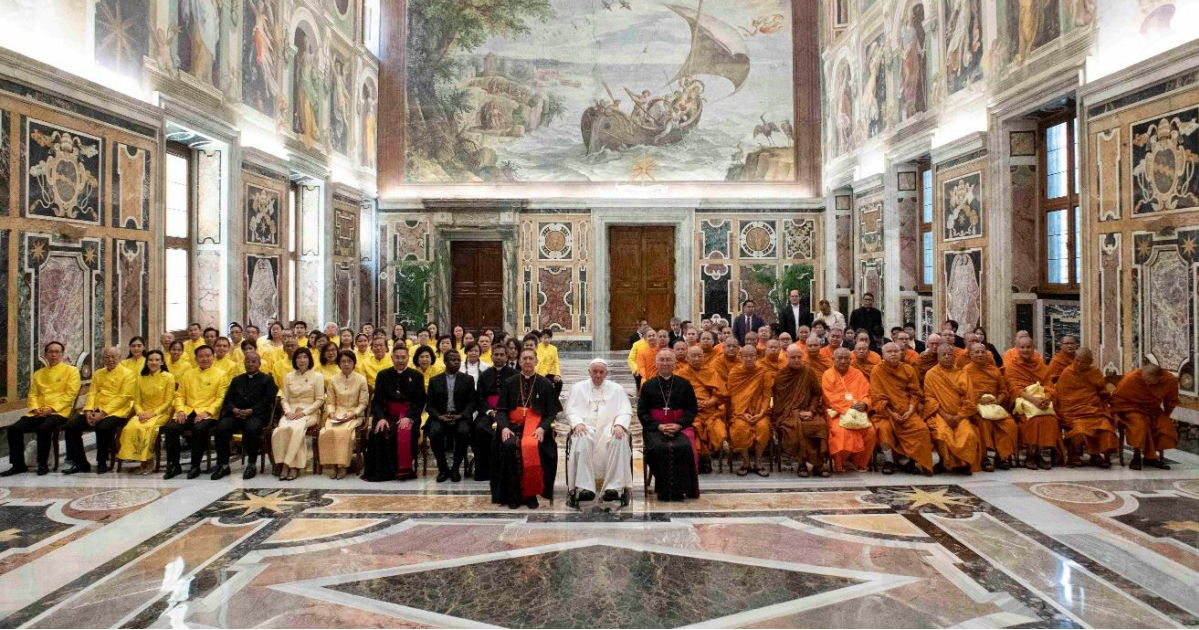 Tuyên bố miễn trừ trách nhiệm: Bài viết này được sao chép từ các phương tiện khác. Mục đích của việc in lại là để truyền tải thêm thông tin. Điều đó không có nghĩa là trang web này đồng ý với quan điểm của nó và chịu trách nhiệm về tính xác thực của nó và không chịu bất kỳ trách nhiệm pháp lý nào. Tất cả tài nguyên trên trang web này được thu thập trên Internet. Mục đích chia sẻ chỉ dành cho việc học và tham khảo của mọi người. Nếu có vi phạm bản quyền hoặc sở hữu trí tuệ, vui lòng để lại tin nhắn cho chúng tôi.